Each and every computer drive will eventually fail! These drives store the core of your business- your data. The cost of downtime is typically tens of thousands of dollars and the permanent loss of your emails, customer records, documents and invoices can cripple if not end your business. Backing up your data to the TBIT'S servers ensures that you can recover your data even in case of a physical disaster, theft or loss of your computer. TBIT Services can backup irreplaceable data from desktops, laptops and servers running Windows, Linux, Mac or FreeBSD. Backups can also include SQL, Exchange (to the mailbox level), and all types of data files. All files are encrypted before leaving your computer to a military strength 448 bit blowfish encryption. Your files will be stored encrypted to prevent unauthorized access (even TBIT can't access your files). For mobile users, your data will begin to backup anytime your laptop obtains internet access, keeping your data safe and current while you are on the move.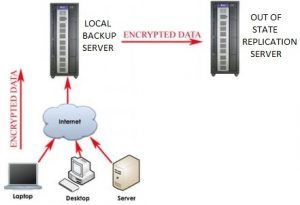 How it Works
We simply install an agent on each computer (workstation /server) that you wish to protect. After the initial configuration, backups happen automatically and we can monitor and manage the process remotely – without ever accessing your data!
We could even implement a staged backup solution for you wherein you could back up to a local server and have that replicate to our remote server as insurance against disaster!
Pricing depends on the number of installations and the amount of data stored.
Note: You are charged on compressed data storage; additionally, our intelligent incremental data feature backs up only changed blocks after the first backup.
Why Backup Online
Online backups are the easiest and surest way to protect your data.
Backing up to an offsite server ensures that you can recover your data even in case of a physical disaster, theft or loss.
Online backups also eliminate many of the error prone steps associated with traditional backup methods like tape. Users can restore 'point in time' versions of files without loading tapes one after the other.
With our online backup solution, your data is encrypted and compressed even before it leaves your computers.
After the first full backup, only incremental block level changes are sent – optimizing bandwidth & storage usage.
Backup Company & Software
You should ideally back up your data offsite, to a dedicated backup server that's is:
Managed 24/7
Easy to use
Flexible
Automated
Transparent
Restores files with ease
And most of all…..Secure both encryption and redundancy
—————-DOWNLOAD——————
If you need any help we will be glad to help you install and configure over the phone or in person.
Operating System
Version
Download
Setup Instructions
Windows
(Workstations and Servers)
4.4.0
Windows Instructions
Debian
4.4.0
Mandrake
4.4.0
RedHat/Centos
4.4.0